Bristol CLT responds to concerns raised by local residents
Following some concerns raised by local residents about work taking place on land to the south of Morris Road on which a development of 49 homes is being built later this year (Shaldon Road scheme), Bristol CLT has issued the following statement:
"The work being carried out at the moment is preliminary site clearance of undergrowth and trees, under strict licence conditions approved by Bristol City Council in advance of the build programme. An approved ecologist is overseein…g the work to make sure mature trees are protected and to check that wildlife such as birds, badgers and bats are not being harmed.
Full planning permission for the development was granted by Bristol City Council on the 15th Feb 2018 and Bristol CLT would like to reassure you that all the pre-commencement conditions listed in that permission will be carried out as required before the building work commences later in the Spring, including extra car parking on Morris Road.
Bristol CLT apologise in advance for any inconvenience you may experience, and would like to reassure you that the Bristol CLT team will be doing everything we can to minimise noise and disruption.
The Bristol Community Land Trust is a not-for- profit social enterprise run largely by volunteers which aims to offer affordable accommodation to Bristol people that are in need of secure homes. Our aim is always to work with the local community to do the best we can for the whole local neighbourhood."
If you would like any more information, please contact us on:
0117 970 3073 or bclt@unitedcommunities.org.uk
BCLT Are recruiting a Development Administrator
Application process now closed
Bristol Community Land Trust (BCLT) is looking to recruit Maternity Cover for the Development Administrator role; working alongside the BCLT Manager and providing admin support to the wider BCLT.
This role will suit a highly organised candidate with proven administrative experience. See full job description and candidate requirements here:
This is an exciting opportunity to be part of a small dedicated team with a focus on community and change in the housing sector.
The BCLT seeks to open up opportunities for acquiring and developing land for its members and strives to promote the cause of self-organised housing across the Bristol city region. In 2016 BCLT completed the construction of its first 12 properties. BCLT's horizons are growing and it will continue work on a development to include 49 homes, with construction starting in early 2018.
The role is Part Time with flexibility in hours to work around school drop offs etc.
It offers a variety of tasks and the opportunity to learn about an important means to improve the housing sector in Bristol.
The contract would be up to 10 months
Part Time: 12 – 15 hours per week over 2 – 3 days (Monday, Wednesday or Thursday)
Salary: £16,000-£18,000 pro rata
Start Date: ASAP
Office Location: Eden House, 10 Eastgate Business Park, Eastgate Road BS5 6XX
Closing Date: Wednesday 20th December 2017
To Apply: Send your CV and a cover letter to riannanm@unitedcommunities.org.uk
Self Finish Project Management Team Tender
Bristol Community Land Trust (BCLT) and United Communities (UC) are looking for an individual or team with experience of self build or self finish construction work to manage the self finish programme and oversee and support the work of the self finish residents group at its Shaldon Road scheme in Bristol, which will start on site in early 2018. See attached Tender Document.
Please email your proposal and any supporting material to riannanM@unitedcommunities.org.uk by 14th December 2017.
If you require clarification or additional information such as site plans and design information, please contact the Project Manager, Darren Hall darren@thepaleblue.org
Notice of the Bristol CLT Annual General Meeting
Thursday the 26

th

of October 2017 7:00pm – 8:30pm
The Cameron Centre, Cameron Walk, Lockleaze, BS7 9XB
Come along to the Grand Opening of Bristol CLT's Fishponds Road Development
Monday the 25

th

of September 2017 from 4:30pm-6:30pm
One year on from the completion of our benchmark development on Fishponds Road, Bristol CLT, and the residents, would like to invite you to the official opening.
We are delighted that Cllr.Paul Smith, Cabinet Member for Housing at Bristol City Council, has agreed to mark the official completion by cutting the ribbon.
We would be delighted if you could join us for the grand opening and drinks reception
 325 Fishponds Road, Bristol, BS5 6QG
Public parking available at Eastville Park car park: turn left off of Fishponds Road onto Oakdene Avenue, then left onto Park Avenue
Come along to BCLT's Summer Picnic
Families Welcome! Bring a picnic and we'll provide some refreshments and cake!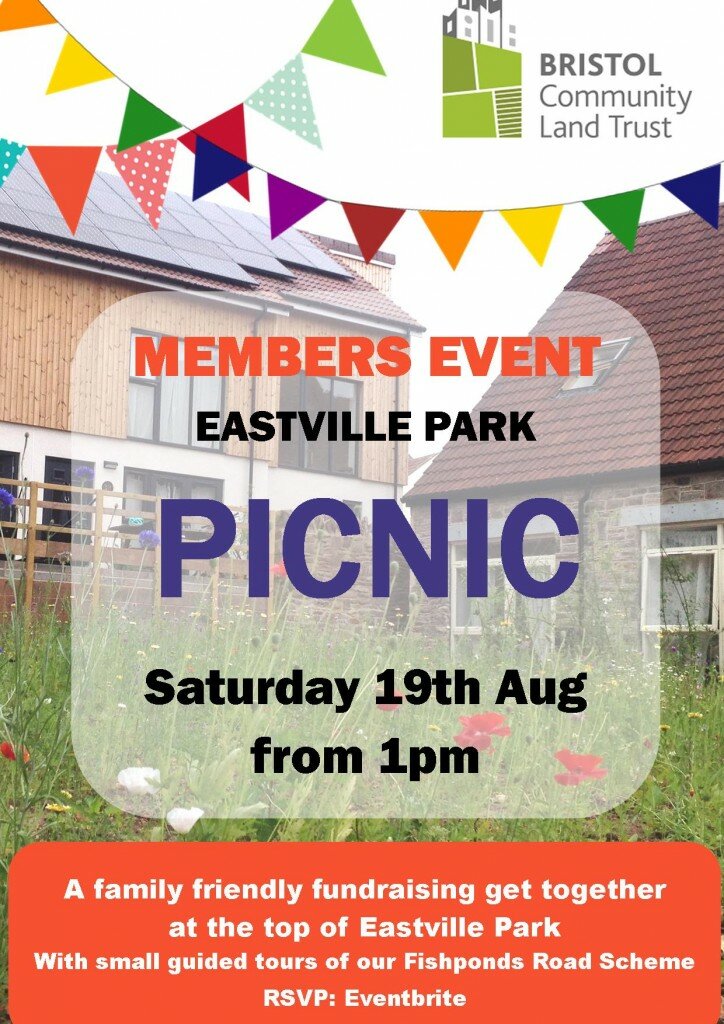 A Promotion at BCLT for Bridget!
In recognition of the fact that the role Bridget took on just over a year ago at Bristol Community Land Trust has developed significantly and now includes management of a staff member, managing the organisations long term financial plan, negotiating and securing specific project funding, working on new development opportunities and being involved in the strategic direction of the organisation, Bridget has been promoted to Bristol Community Land Trust Manager. She has played a key role in  getting BCLT to the place where it is now; an owner of assets, an ethical social landlord, has processes,  procedures and policies in place, has a development pipeline, has recruited and developed new board members and has been featured a number of times in the national press. BCLT is fortunate to have someone as committed as Bridget and would like to take this opportunity to thank her for the excellent work she has done in the past year.
Book your place now for the BCLT FREE screening event on Wednesday April 26

th
BCLT is holding a members screening event on Wednesday April 26th, 8pm-10pm at: The Basement, Café Kino, 108 Stokes Croft, BS1 3RU We would like to invite you to a sneak preview screening of Arc of Justice: a history of CLTs (short film). We will also be screening a film about Fishponds Road (our first scheme), filmed by South Korean visitors (so look out for the interesting subtitles). It will be a chance to meet up and enjoy an evening getting to know other BCLT members. We also have guest speaker Sue Walton who is a resident at our Fishponds Road development who will be talking about what it's like being part of a BCLT community. Please book your place via the Eventbrite page. non or new members welcome.
We have recruited a Development Administrator 
We have recruited Riannan, a Development Administrator, to provide support to the BCLT by working alongside Bridget, our Development Officer.
Shaldon Road Community Housing Development
The scheme Architects presented the most recent plans for the site behind Shaldon Road at an afternoon event in Lockleaze on the 16th October 2016. Local residents and people interested in the scheme came to respond and feedback. It is currently proposed that 50 homes for shared ownership and affordable rent will be developed in a partnership between Bristol CLT and United Communities Housing Association. Current plans are available to download here (sorry you will need to rotate view). Key questions asked included: Do you have any experience or feelings about the site? Do you have any thoughts on the architectural approach proposed? Any further Comments? If you were unable to attend but wish to feedback either email or complete this form – public-consultaion-leaflet Send responses to bclt@unitedcommunities.org.uk by the end of November
 Bristol CLT on BBC Radio 4
Bristol Community Land Trust were recently on BBC Radio 4's consumer affairs program 'You and Yours' – here is the link to listen back to the 10 minute clip on the iPlayer.
"Community groups are taking the housing crisis into their own hands and building their own affordable homes. Over 500 houses have been built by Community Land Trusts with 175 organisations now developing, building and managing affordable homes for their community across the UK. Many of those have been set up in the last two years. We meet the residents of a new development in Bristol."
Listen to the full program here: http://www.bbc.co.uk/programmes/b07wn469
 

Members Annual Meetings (AGM) 12th Oct 2016
Notice of the Annual General Meeting plus presentation on Fishponds Road, Shaldon Road and New Sites.
A Bring and Share Food Evening. to be held at The Hub, Unit 1 Fedden Buildings, Gainsborough Square, Lockleaze, Bristol BS7 9FB  https://goo.gl/maps/dNCHdXrvzpk 7pm on Wednesday 12th October 2016 
Find full details of the agenda and accounts here: AGM-2016-notice and bclt-accounts-201516.
The Chair report for the AGM. Bristol AGM Annual Report 2016
Scaling it up: Community-led housing in Bristol
BCLT is hosting a one-day event for community-led housing practitioners across Bristol. Find details on our Eventbright page. Monday 18th July 2016
BCLT is recruiting new board members
Do you have the skills and motivation to help us meet our goals? Do you care about affordable housing in Bristol?  If so, the position of board member may appeal to you. Becoming a board member offers an exciting and challenging opportunity to play a vital role in our future, joining passionate individuals coming together with a common goal. We are looking for board members with a broad range of skills including; commercial and financial expertise or experience of resident/community development. One of our resident's response to her new home: "…I have lived in rented properties for most of my adult life with very little security up till now. I would like you all to know how much you've helped me and how much this means to me…." One of our board members says: "As a person who is keenly interested in development and how development shapes our surroundings, being a board member at BCLT gives me the chance to be part of and assist an organisation that is at the forefront of influencing the way housing development is undertaken in Bristol.  I get to share my skill set with the board and help shape the momentum and direction of the projects and the board itself."  The board meet every 6 weeks 4.30pm-6.30pm in Bristol. The role is unpaid Board Member Job description
We would like a board of nine committed individuals (currently 8), and look for recruit someone with financial experience in 2017.  Email completed forms to Bridget@unitedcommunities.org.uk
---
Bristol Community Land Trust seeks to open up opportunities for acquiring and developing land for its members and strives to promote the cause of self-organised housing across the Bristol city region It also aims to nurture and support locally focused community land trusts whilst leading by example by developing environmentally sustainable, affordable housing and community based amenities.
Go to our Projects page to see what schemes BCLT is working on currently including those at Fishponds Road and Shaldon Road.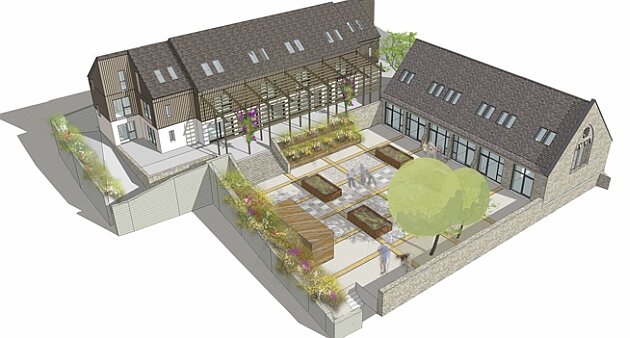 What is a Community Land Trust? This is a useful video that explains what a Community Land Trust is. It outlines the benefits of a CLT, what they can do and how CLT's involve communities. http://vimeo.com/23207428
Bristol CLT October 2015 Newsletter
Bristol CLT Build It! Award Press Release
Bristol CLT May 2015 Newsletter
Bristol CLT Urban CLT Project Press Release